Styling Project: Manly Apartment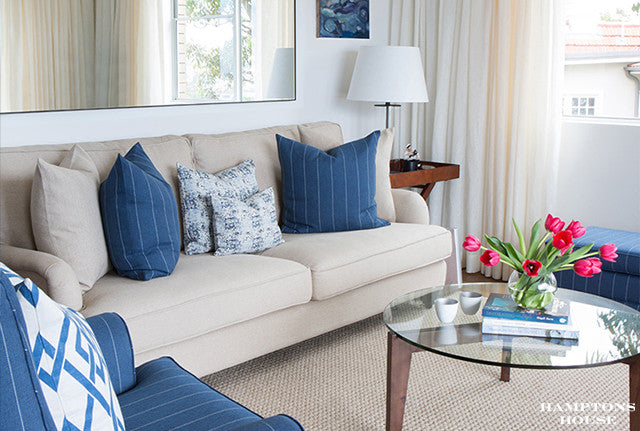 Monica was tasked with transforming this 60's style one-bedroom apartment into a relaxing sanctuary for a client who travels constantly. Being overseas on business a lot, the client was after a space with the structured, uncluttered aesthetic of a luxury 'hotel', combined with the relaxed yet sophisticated atmosphere of a holiday home. Highlighting the dramatic ocean views was another requirement.
Taking cues from the client's lifestyle - at home and away - and inspiration from the natural surroundings and classic lifestyle brands like Ralph Lauren, Monica worked on transforming the entire apartment, including a kitchen renovation. Making sure the space would be masculine but fresh, colours include neutrals, browns, whites and blues, which also reflect the hues of the natural ocean environment.  Monica chose 100% linen for the sofa and sheer curtains to bring in a soft, coastal mood, combined with more masculine structured furniture and straight lines. 
The client is now able to come home to a relaxing, homely space, which is easy to maintain and uncluttered.
From the client: 
I was time poor and needed someone to bring my tired apartment up to date. Monica drew out what was in my head, understood the look I was after, and brought it to reality. Monica was great at making suggestions and was never daunted when I knocked some back! I kept her busy hunting for alternatives. If you just look at the transformation of my place it speaks for itself — don't hesitate to give Monica a call.